Shenandoah Treasure Hunt
Romantic Comedy / Adventure
Logline: Four college students, worried about paying for their last year, go on a hunt for buried Civil War gold.
Max and Harry, as well as Kayla and Velma, are struggling to find ways to pay for their last year in college. At a lecture on Civil War history, Harry and Velma are reminded of their own family's Civil War history.
When the lecture notes reaches the end of the war, and discusses the legends of gold buried in the chaos, they latch on finding it as a way to pay for their education.
Kayla and Velma keep finding their research being overlapped. They catch Max and Harry in their parallel investigation. After a rocky start, the pairs join forces.
Now they have to account for over 150 years of history in order to find the one square foot patch of ground where the treasure may be buried.
---
The IMDB page for the movie: https://www.imdb.com/title/tt9814394/


Official trailer:


To follow the adventure of making this movie, my debut, click here.

Some behind-the-scenes videos and pictures of the production.

View a sample of the script here.
---
Thanks to Daria Brennan at http://beegraphica.com/ for developing this poster for me (click to get larger version):

Updated Sept 19th, 2018 with the actor's images, replacing the stock images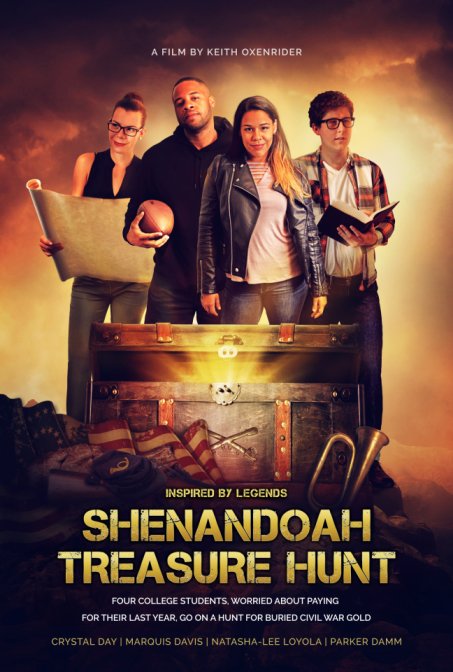 ---
This version is for crowdfunding...