Domestique
Sports/Romance
Logline: What does it mean when you're the 100th best cyclist in the world?
Blurb:
Months after graduation, Mike, college cyclist standout, meets with the only director sportif to contact him. Mike was merely the best in his peer group, he's only the one hundredth best cyclist in the world. However, the director is willing to give Mike a chance as a domestique.
Lizzy was glad she no longer had to share Mike with his bike. But ever the dutiful girlfriend, she swallows her disappointment to support her man. After all, that was the original plan - to be her man's manager - before the echoing lack of interest when he graduated.
But when he can't seem to make time for her that changes. After taking off work and flying - on her own dime - to the other side of the world, the last straw is when she sees him cozy with a beautiful groupie.
Then, burned out after leading his team up a mountain, Mike is risking elimination.
"They say it's always darkest before the dawn, but, dammit, it just keeps getting darker. My professional career is at a standstill, my best friend is in a hospital, my girlfriend... no, that doesn't capture the importance - my high school sweetheart has left me, and I'm riding backwards up a mountain.

"Endless hours in the saddle were supposed to take me to the top of world, instead I'm not even sure I'll wind up at the top of this mountain."
---
Related blog posts.

The cyclist in the poster below is Matthew Marcus. Thanks to Daria Brennan at http://beegraphica.com/ for the lettering (click for larger version):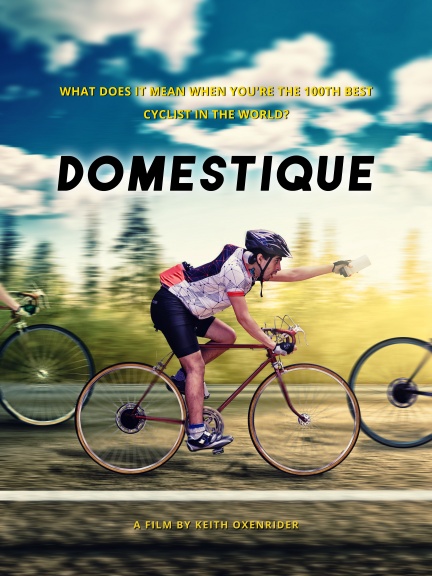 ---
Behind-the-scenes videos from the making of the short:


A couple of BTS shots prepping for the bike racing scenes for the short filming in a week (click in image for larger version):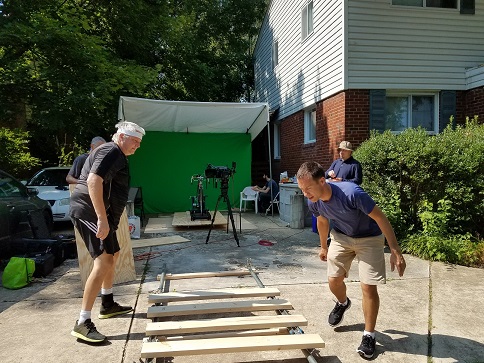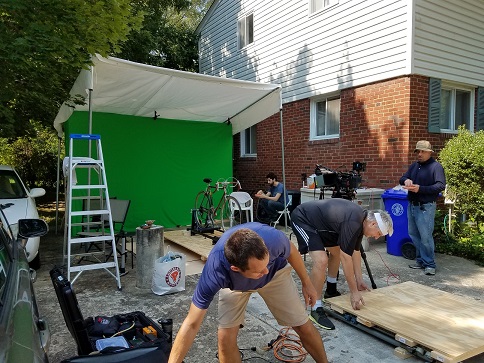 In the foreground is my poor-man's dolly track, really simple to build, and inexpensive. In the mid ground is the turntable I built to attempt to match the actor (bearded Matt in the far back) to the stock race footage and in the far back is the obvious greenscreen wall.
Click here for some more behind-the-scenes stills.